Whooping cough.  It sounds like one of those old-fashioned diseases that shouldn't be around anymore.  In reality, it's as modern as today's news, and more common than you might think.
The good news is that it's mostly preventable and treatable; the bad news is that it's still a dangerous disease, especially for the very young.
A few confirmed cases of whooping cough (pertussis) in the Scott County Schools have spurred us to remind you of the dangers of this disease.
Whooping cough is a bacterial infection whose most striking symptom is described in its name—a loud, persistent cough that doesn't easily go away.  In an older child, there is a "whooping" sound made as the child tries to catch her breath between coughs.  Infants may not "whoop," but you should call the pediatrician if your infant has a persistent cough that seems to exhaust him, and his appetite has decreased.
This disease affects the lining of the bronchial tubes , and is very contagious because the vigorous coughing disperses the bacteria into the air.  Anyone of any age can get it, but it's most dangerous among the very young.
Infants and young children, in particular, can develop life-threatening illnesses from whooping cough, including pneumonia. Hospitalization is often required.  This means that they, and the people around them, should be immunized.
          We cannot stress enough the importance of getting the appropriate immunizations at the right ages.  The pertussis vaccine doesn't last forever, and must be taken at intervals to be effective.
Children should have a total of 5 pertussis (whooping cough) vaccines before they start school.
The youngest children are at highest risk and the most vulnerable to this disease, and should have vaccines at 2 months, 4 months, and 6 months of age.
Booster shots are given at 12-18 months, and
again at 4-5 years of age.
The College of Gynecology and Obstetrics recommends that pregnant women receive a pertussis vaccine with each pregnancy to reduce the chances of whooping cough in their newborn.
Caregivers and other adults who live or work with infants should also be re-immunized, because they've lost immunity from their childhood vaccines.  They may not even realize they have whooping cough, because symptoms are not as severe.  It may simply feel like a lingering cough from a cold, but they can transmit it to the children in their care.
When should you bring your child to the pediatrician for whooping cough?  If he has cold symptoms, and you notice that the cough is worsening at about the time when it should be getting better, call our office for an immediate appointment.
There is a test we can do in the office, but it has to be sent to a lab, which takes several days.  In the meantime, if the pediatrician suspects pertussis, your child will be started on a five-day course of antibiotics.  The child is considered contagious and should not return to school or daycare until the five-day course has been completed.
To read more, check out this article from the American Academy of Pediatrics.  Also, see our Facebook November 8 reposting of an article from two years ago by our own Dr. Hambrick.  The experience of one of his own children having been made dangerously sick by this disease makes him particularly diligent in trying to keep your child healthy.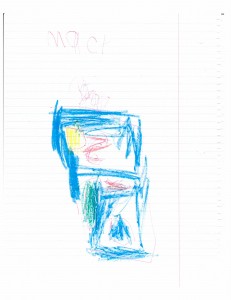 artwork by Macy
© 2013, MBS Writing Services, all rights reserved